Australia is a vacationer's paradise with an abundance of recreational activities and cultural attractions. And nowhere is that more evident than in one of my favorite cities in the world – Sydney!
From the rough and ready energy of its friendly open-minded people, to its sun-drenched natural attractions, Sydney will win the heart of even the most road-weary traveler. It's impossible not to love this town!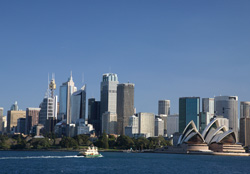 Although Sydney was founded in 1788 as a penal colony it didn't become an official city until 1842. This is also one of the largest cities in the world – almost twice the size of New York City, so it's best to explore it in sections.
And since half of the city is bordered by the Sydney Harbor, that's a great place to start! The combination of sun and surf make this the perfect place for a all kinds of outdoor activities…There's cruising, sailing, strolling the circular quay or my personal favorite – taking a harbour cruise! You can do a relaxing sightseeing cruise, or spice it up with a fast jet boat ride, doing 360's under the Harbour bridge!
If you're really adventurous, take part in a once in a lifetime experience, climbing to the top of the Sydney Harbour Bridge! You'll be required to remove all jewelry & loose items, take a breathalizer test for sobriety, wear one of their jumpsuits & be able to go without a bathroom break for two hours! A adventure that I promise you'll never forget!
Getting around here is no problem. Sydney's got to be one of the easiest cities to maneuver! There's buses…and trains…and ferries…oh my! Not to mention one of the coolest ways to get around – the monorail! But my favorite way to get around Sydney is by taxi. Water taxi that is!
But whatever mode of "get around" you choose, don't miss Darling Harbour. Transformed in the 80s from an abandoned dockyard into one of the world's greatest waterfront destinations, Darling Harbor is 'a must see' for tourists and a favorite spot for locals!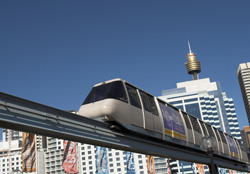 With lots of first-rate attractions, world-class museums, excellent shopping, and a year round calendar of free outdoor events, there is definitely something for everyone here. This is the place people come to walk around, look inside some of the shops, art galleries, have an ice cream cone, maybe feed the seagulls, and just enjoy a beautiful day. It's also where to find a great place for lunch or dinner overlooking the harbor.
Darling Harbour is also home to the Sydney Aquarium, one of the many attractions that accepts the SeeSydneyCard , which gives you unlimited admission into a wide variety of Sydney's most popular tourist attractions. One of those is the Taronga Zoo, a place even adults will like! "Taronga" is an Aboriginal word meaning 'water view' and the Taronga Zoo certainly has one of the best water views in the world. Opened in 1916, Taronga is Australia's major zoo and is open every day of the year for the millions of people who enjoy its wonderful animals and spectacular grounds. Add the public transportation option to your SeeSydneyCard and take the ferry right to the Zoo's water entrance! Here' s where to cuddle a Koala and feed the kangaroos!
Of course, there's a lot more to see and do in Sydney, but my favorite has to be the legendary and controversial Sydney Opera House.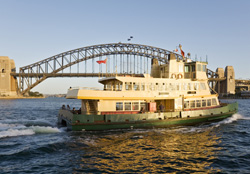 Legendary for it's architectural and cultural significance, and controversial for it's over-inflated cost which nearly bankrupted the local government, the Sydney Opera House remains one of the greatest and most recognized buildings in the world. It cost $102 million in Australian Dollars and was paid for by a series of lotteries.
Overlooking the Sydney Harbor, the Opera House actually houses five performance spaces ranging in audience size from 300 to 2,690. It's design was chosen through an international competition won by the Danish architect Jorn Utzon who's drawings were plucked from the pile of rejects by one of the judges. The Opera House has performances nearly every day and is open for tours as well
Sydney's oldest preserved colonial district, The Rocks is one of the most-visited parts of Sydney. As the foundation place of both Sydney and Australia, it is often described as "Sydney's outdoor museum".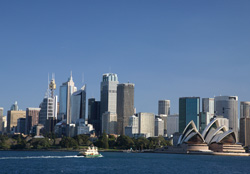 In the early days, the Rocks, with its winding cobblestone streets and sandstone cottages, was labeled "unruly" as former convicts scratched out a life as best they could. Today, it's home to lots of shops & art galleries including artist Ken Done's gallery. Aside from souvenirs, the shops here are geared toward Sydney's yuppies and wealthy tourists, so any bargains will have to wait for the weekend Rocks Market! Or come after dark for the Rocks'"Ghost Tour" to revisit some of it's previous residents. They definitely have a story or two!
Sydney is an incredible city, and don't forget…the seasons are reversed! So why not spend Christmas here Aussie style: on the beach throwing a shrimp on the barbie!