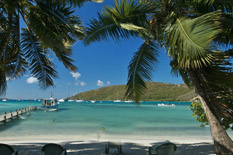 Where will you find the ultimate in luxury and adventure? On a sailboat in the Virgin Islands! People always ask me, 'Where's your favorite place to go?' I always say I'm happy anywhere on a boat. In the Virgin Islands, you're surrounded totally by boats- sailboats, catamarans, big yachts and speedboats. So practice your nautical knots, your half-hitches and your bow-lines, because the best way to explore the Virgin Islands is from the water.
The Nina, the Pinta and the Santa Maria carried Columbus to the crystal clear Caribbean waters over 500 years ago. Still today, one look at the British Virgin Islands from the water and you'll know that you've found paradise. In the last few hundred years, water vessels have definitely changed… but the geography has stayed the same. The archipelago that makes up the Virgin Islands is split into two different territories: The British Virgin Islands to the east and the U.S. Virgin Islands to the west.
The British Virgin Islands include 4 main islands and 50 smaller islands and cays. And no matter which one you go to, the water is absolutely beautiful! One of the lovely little harbors you can find here in the BVI's is called Soper's Hole, on the west end of the island of Tortola. A few of my favorites islands are Peter Island, which has a nice little resort, and then, Virgin Gorda, which has a natural attraction: the baths!
Tortola is a fantastic destination. Tortola Island is the largest of the BVI's main islands. The hillsides are dotted with beautiful West Indian architecture, with cottages and villas in every color. With its duty-free shopping, endless water sports, pristine beaches and authentic Caribbean spices, Tortola is a fantastic home base in the British Virgin Islands. The Dutch settlers first arrived in Soper's Hole Harbor in 1648. And still today, Tortola is what the islanders call a gunkhole, a nautical term for an urban, yet, tropical spot to drop anchor. Another term is pusser, slang for a merchant or a sailor, and Pussers Dock at Soper's Hole is where to catch adventurous day trips to other islands.
Sailing is big in the BVI's and one way to see it is on a luxury catamaran like the one we sailed on, called Mystique. Remember, you'll need your passport to travel to the British Virgin Islands, even if it's by boat from the U.S. Virgin Islands on a day trip. But you don't need a passport to sample the liquor this area is famous for- rum! No end of rum drinks like a rum punch, available for the passengers. Cheers!
The Mystique is a "thoroughbred day cruiser." Basically a double hull, double motor luxury catamaran that you can take out for a day, a sunset cruise, or even a week, either bareboat or fully crewed! I asked the Captain where the Mystique sails to, and he said, "On a day like today, we go over to Sandy Spit. We snorkel there, and then, from there, we go into White Bay for a look at the white sand and clear waters."
With its shaded cockpit, billowing sails, and large forward trampoline, this baby can really sail. But the Mystique is also built for comfort. The double hulls house gorgeous king & queen sized staterooms with full baths and air conditioning… plus a gourmet galley and salon. Hint: on a "bareboat" catamaran charter, you captain, provision and cook for yourself, or just hire a skipper if your sailing experience is limited.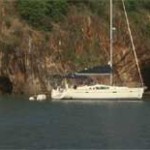 The views are breathtaking, as the catamaran makes its way across the channel to Sandy Spit, a gorgeous half-acre of white sand, turquoise water, and palm trees… paradise just the way you pictured it! And the best part… most of the time, it really is deserted. Sandy Spit is exactly what you'd expect a deserted island to look like. Off the white sand beach, there's a little trail between the trees. This trail will take you all the way to the other side of the island. And, if you look around, you'll see beautiful palm trees and there're coconuts in the trees. You have colored birds flying all around these amazing looking trees. Sandy Spit is the perfect desert island to explore on a perfect Caribbean day!
The British Virgin Islands have almost everything that a dream vacation is made of! Year round sub-tropical weather… great seafood… local rum… luxury… adventure, and of course… boats!
Really, it's all about island hopping here in the Caribbean. They've got kayaks, catamarans, yachts, and dinghies… sailboats, sea-doos, ski boats and ships… floating bars, ferries, windsurfing… and rubber bottomed high speed inflatables. For a thrill ride, go out with Skipper J. P. Maloney! This is an exciting high speed inflatable ride to Virgin Gorda, and the ride is half the fun! Wahoo!!
Virgin Gorda lies just east of Tortola. Its mountainous center reminded Columbus of a fat woman laying on her side, hence the name, Virgin Gorda . The waters here are fantastic for swimming and snorkeling- especially at the "baths". An out boat takes us right into Devil's Beach! I asked the Skipper J. P. what the baths actually are.
He replied, "Located Virgin Gorda, in the British Virgin Islands, are granite rock formations which were all created volcanically. You have granite rocks pushing up from the water, forming pools which have waist high water "baths" that you can kind of wade through. It's fantastic for photographs."
So, in other words, these rocks blew out of a volcano a hundred million years ago, and landed here! Then the water collected in pools forming the "baths." You land on a beach and follow a trail through some brush and bushes, wind around some rocks, and voila, you arrive at these different pools of water. Grab a snorkel, fins and mask, as you swim into the beach at Devils Bay! Ready? Everyone overboard!
The bath's granite boulders create a maze of natural tide pools, tunnels, arches, and deep scenic grottos lit by the most delicate shafts of sunlight… once inside, it's like exploring another planet. The largest boulders are over 40 feet long, but the sea trail between them can get tight… and you'll have to do a little bit of climbing and crawling. Just think, you're walking in the footsteps of Captain Norman or maybe even ol' Blackbeard, himself! Could you imagine finding a pirate's secret buried treasure here in Virgin Gorda? Well actually, I think we did find a treasure… the baths themselves!
For pirate fans, here's some trivia: what island inspired Robert Louis Stevenson's novel Treasure Island? From right here in the British Virgin Islands, it's, Norman Island!! Named for "looting Captain Norman", this small island lies just south of Tortola and Virgin Gorda. Legend has it that a Spanish galleon dropped anchor here in the 1700's, and its mutinous crew buried 55 chests of silver coins inside the island's famous caves. Now that's a souvenir worth looking for! In fact, you can actually snorkel into the caves! But bring a waterproof light… it's pitch black inside!
One of the most famous, or should I say infamous places on Norman is a floating bar called Willy T's, and you know what? From what I hear, this place gets really wild. We came on a tame afternoon, but it's known for it's partying.
Pull into the dock at the beach to visit the "Pirate Bar"… a typical Caribbean beach bar frequented by boats of all sizes. Ahoy matey! Day-trippers cruise into Norman Island for burgers, conch fritters, and "bushwackers", one of the famous local rum cocktails. Ask the bartender to shoot off the cannon they stash behind the bar! Bring the family, because kids love it here! You can hang out on the beach… or how about renting a kayak?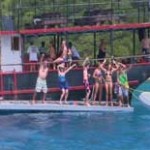 From Norman Island, it's a quick run across the sheltered St. Francis Drake Channel back to home base, Soper's Hole, Tortola. Tucked into the colorful and breezy west end is a great place to drop anchor- the Bay View Inn. Home of Voyage Charters… this quaint little inn sit's right on Pussers Wharf overlooking the water. There's a total of 4 air conditioned rooms, all with mini-kitchenettes, balconies, and beautiful views of the boats in the harbor.
Here, you're close to everything "water": waterfront dining, water sports, water vessels… and waterfront shopping! You're also steps away the newest and fastest boat in Tortola, the Ispeed! This hydrofoil supported catamaran races along the coast at 48 knots- that's almost 60 miles an hour- kicking up a 100 foot rooster tail as it flies. What is it? It's a multi-platform boat that offe pretty much anything to anybody in the way of water transportation. The service does guided tours around the British Virgin Islands. It is not only a fast and stable boat, it's comfortable for all ages, and all types of people. They can do corporate events, day sails, pick-ups from cruise ships, and pretty much anything you can do with a boat. They're shallow draft boats, which stick close to shore, plus they're very eco-friendly, too.
The Ispeed "planes" over the water – using winglets between the twin hulls to lift it almost 2 feet out of the water at top speed… moving so fast, it barely skims the surface, which accounts for it's very smooth ride. What a sailboat can do in 2 hours, the ispeed can do in 5 minutes! Whether it's their "hot spot hop" or the "smooth rum run"- Ispeed is my speed!
The island of Tortola stretches from Soper's Hole on the west end, to Beef Island out east. In between, there are plenty of beautiful beaches, beach bars and restaurants, natural harbors and souvenir shopping. The largest town on the island is Road Town, located mid way between the east and west end. You've heard the saying, "variety is the spice" of life? Well, here, that is definitely true. You know, local handicrafts are the things to buy here. Scarves, clothes, bags, dolls, artwork, and here in Road Town, there's a whole craft village where you can find just that. Flowers and fruit, paintings and purses, spices and shells… even a love potion!
From Road Town, you can also catch the fast ferry to various destinations, including St. Thomas, St. John, Virgin Gorda, Jost Van Dyke, Anegada and Peter island. No average ferries here, these high speed catamarans put the "fast" in "fast ferry," no doubt about it! Here on Tortola, there's always a great beach to explore…and renting a speedboat is the ultimate way to go in the BVI's. The west end is where to discover the all-time favorite, Smuggler's Cove, and Stephens Beach, where you can belly up to the Smuggler's Cove Bar and Snack Stand… So… What's for lunch? Anything you'd like they'll try to make, and don't leave without signing the umbrella!
Then it's off to the next beach round the bend! Next stop? Cane Garden Bay, right around the hill from Smugglers Cove, and as you will see, there're all these little beach bars… you can rent a paddle boat… but definitely the water is the way to see the island! Cane Garden Bay as a favorite for swimmers… even the 4-legged variety, as we found out as are allowed at the beach!
The 4 major islands of the British Virgin Territory also include Jost Van Dyke, just a quick speed boat ride west! This island is the smallest of the four major BVI's, called the "barefoot" island for its laid-back, casual lifestyle. White Bay is a favorite for swimmers and everybody comes here by boat. I came over in a little speed boat and it was so cool!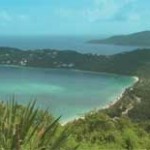 The white sand beaches of White Bay are protected by extensive offshore reefs. A dangerous beauty, where many a pirate met a shipwreck, these reefs are home to a variety of colorful marine life… attracting scuba divers and snorkelers from around the world. But in true Caribbean fashion, Jost Van Dyke is also known for its action above the surface… at Foxy's, just a little beach bar where the boats pull in for a beer and burgers, maybe to buy a t-shirt. It's famous for Foxy's hammock, strung between the palm trees. Now people not only buy t-shirts while they're here — they usually leave one behind. Anyway, this is clearly not a "no shoes, no shirt, no service" kind of place. And if you're lucky, you'll meet Foxy himself. He's usually here, strumming the guitar in his classic calypso style. Chances are, you'll end up in one of Foxy's songs! He's always ready to hang out with the customers…and even teach 'em a thing or two about beach life. Here's a tip… beach bars rarely accept credit cards, but do take "soggy dollars"- cash you've been swimming with!
The British Virgin Islands are definitely paradise on earth… Home to the best in sailing day cruises and luxurious chartered adventures. Here you'll find great snorkeling, warm water for swimming and gorgeous natural wonders. This is the place for getting out on a boat, whether it's a ferry between islands… a day trip to another island… a speed boat rental… Or a chartered catamaran… seeing it from the water is the way to go.
The British Virgin Islands are everything you could want in a vacation, casual or luxurious! Here you'll find fabulous resorts, cute little inns, amazing restaurants, and funky beach bars. It's also where you'll rediscover how much fun your family can have together! I know my family had a great time!
So, on the Laura McKenzie scale of one to ten, I'd give the British Virgin Islands: 8 for hotels & resorts 8 for food 6 for shopping 6 for value And a 10 for boats
Would I come back? Definitely… but on a boat, of course!
Links:
www.britishvirginislands.com
www.bvitourism.com
www.tortola.net
www.foxysbar.com
www.escape-bvi.com/SmugglersCove